Recipe: Cherimoya Ice Cream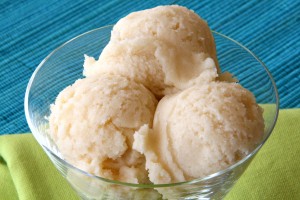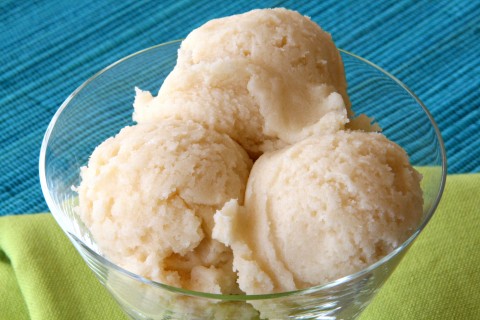 [1]Summary: Naturally sweet, creamy, custardy cherimoya makes a fantastic vegan, raw, dairy-free, gluten-free natural ice cream with no added sugar.
Ingredients
4-6 ripe cherimoya fruit
Water
Instructions
Scoop flesh from ripe cherimoya into the bowl of a food processor, discarding the peel and large seeds. Whirl into a paste. Scrape paste onto a plastic plate and place plate in freezer until cherimoya is frozen solid, at least 4-5 hours, or overnight.
When ready to make ice cream, remove cherimoya from freezer, break it up into pieces by hand, and place frozen pieces in a food processor. Whirl into a thick paste, adding a tablespoon or more of water (a bit at a time), until it resembles ice cream. Do not over mix or it will melt and get slushy.
Scoop into bowls and enjoy!
Serves 4-6, depending on appetites.
Variations
Banana-Cherimoya Ice Cream: Freeze slices of overripe banana and add frozen banana to the frozen cherimoya while you are whirling it into ice cream. This is a fantastic combination of tropical flavors!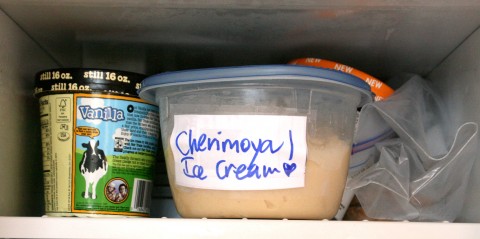 [3]
Preparation time: 10 minutes
Diet type: Vegan
Diet tags: Gluten free, Raw
Number of servings (yield): 6
My rating 5 stars:  ★★★★★ 
Samples of cherimoya were provided by Melissa's Produce [4].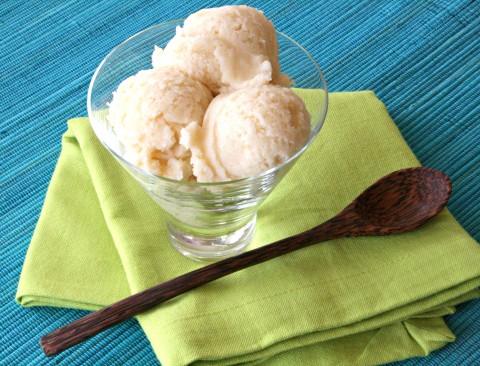 [5]