Recipe: Blueberry Dreamsicle Orange Lower-Fat Quick Bread
Summary: Easy, lower-fat, blueberry-studded orange quick bread is perfumed with vanilla. Smear with cream cheese and breakfast is ready!
Ingredients
2 cups minus 1 tablespoon all-purpose flour
Scant 1 cup sugar (I used Vanilla Sugar [1])
2 tablespoons ground flax
1 teaspoon baking powder
1/4 teaspoon salt
1/4 teaspoon baking soda
2 oranges (juice and zest used separately)
1/4 cup water
2 tablespoons extra-virgin olive oil
1 teaspoon vanilla extract
1 egg
1 (6-ounce) container fresh blueberries (about 1 cup)
Instructions
Lightly mist the bottom and 1/2-inch up the sides of an 8- by 4- by 2-inch loaf pan; set aside. Preheat oven to 350F degrees.
In a large bowl, stir together flour, sugar, flax, baking powder, salt, baking soda and zest from 1 orange. Make a well in center and set aside.
Cut oranges in half and juice them. In a 2-cup measure, add ½ cup orange juice, water, olive oil, vanilla and egg and whisk to combine. Add to the dry ingredients, stirring just until barely moistened. Fold in blueberries. Spoon the batter into the prepared pan.
Bake 55 minutes or until a toothpick inserted near the center comes out clean. Cool 10-15 minutes; remove loaf from pan and cool completely on rack. Wrap airtight and store overnight.
Makes 1 loaf (16 slices). Very low fat; only 2 grams total fat per slice.
Source
Dorothy Reinhold | ShockinglyDelicious.com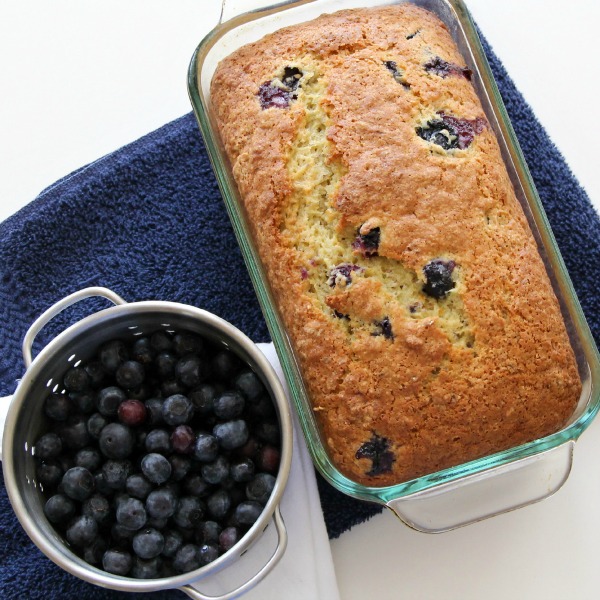 [2]Preparation time: 15 minutes
Cooking time: 55 minutes
Diet type: Vegetarian
Diet tags: Reduced fat
Number of servings (yield): 12-16
Culinary tradition: USA (General)
My rating 5 stars:  ★★★★★ 
Our Twelve Loaves bakers this month are:
Would you like to join us in baking your favorite orange bread recipe for #TwelveLoaves this month? Here's how:
1. Wording: When you post your Twelve Loaves bread on your blog, make sure you mention the Twelve Loaves challenge in your blog post; this helps us to get more members as well as share everyone's posts. Please make sure your bread is inspired by this month's theme – orange – with a yeasted or quick bread, either a single loaf or individual breads. This includes, muffins, scones, flatbreads, braids, crackers, pretzels, etc.
2. Link it up: Please link your post using the linky tool at the bottom of my blog. It must be a bread baked to this Twelve Loaves theme.
3. Deadline: Post your Twelve Loaves bread that you baked in April 2014 on your blog by April 30, 2014.
Please come bake along with us! #TwelveLoaves is a monthly bread baking party created by Lora from Cake Duchess [20] and we welcome new members. #TwelveLoaves runs so smoothly thanks to the help of Renee from Magnolia Days [21]. Follow @TwelveLoaves on Twitter to see what's freshly baked, and follow our Pinterest board [22].
Happy baking!