Print This Post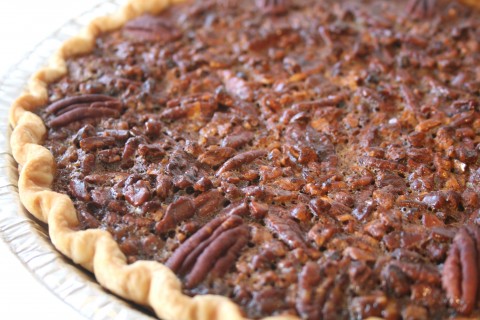 UPDATE: Oct. 2011 — This pie won two more ribbons this month — a 2nd place in the 2011 Pacific Palisades Pie Contest, and a 3rd place in the 2011 Malibu Pie Contest. So far, it has racked up 1st-, 2nd- and 3rd-place ribbons. If that isn't enough to convince you to make it, I don't know what is!
__________________________________________
Oct. 12, 2010: You know what they say about food contests – if you win, the judges were brilliant, and if you lose, the judges had no taste. 😀
I'm here to tell you that Saturday, the judges at the Malibu Pie Contest were brilliant, because I was lucky enough to win THREE RIBBONS!
This is a favorite yearly festival for me, not only because I loooove pie, but because it is a fun community event put on by a local church. You bake your pie(s), submit them for judging, and then the pies are sold by the piece, with all money going to charity. Sweeeeet!
I baked six pies (hey, the oven was going, and after the first one, I got in the rhythm and it just seemed easier to keep shoving them in there). You get in your pie zone, and you just go.
As I baked I got to thinking about the economics of it. OK, let's say each pie is cut into eight slices. One slice is removed for judging, leaving seven slices for sale per pie, at $4 per slice, plus a $10 entry fee per pie. So the math of my pie baking is 6×7=42x$4=$168+$60=$228.
So, strolling around outside in Malibu on a lovely sunny October Saturday, eating pie, chatting with nice people all while making a $200+ contribution to a worthy charity? That's a good day, my friends!
I began entering this contest in 2003, and have won 17 ribbons in the ensuing years. Nine of those have been for pecan pies of one sort or another, and the funny thing (to me anyway!) is that pecan pie is NOT my favorite type of pie! In all that time, I have never repeated a pie entry recipe. Whew.
But I digress. Let's get to the pies!
My 2010 ribbons

:
1st place: Coffee-Toffee Pecan Pie
2nd place: Rum Walnut Chocolate Chip Pie
3rd place: Chocolate Chunk Pecan Pie
Full list of winners is below. 
Want to make the blue ribbon pie for your own family? It's easy! Hint: This pie would be perfect for Thanksgiving dessert.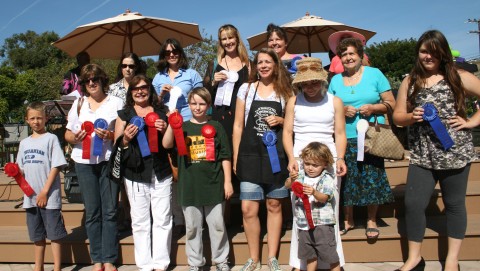 A word about crust: Certainly, you may mix up and roll out your own crust (please do if you want to!), but just for today, since crust-making is the scariest part of pie-making for most people, I suggest you buy a pre-rolled Pillsbury crust (red box, refrigerated section of the supermarket), and call it a day on the crust. Really, it's no crime, and I want to make sure you have a successful pie the first time around, with no crust drama. We can make homemade crust another day. Today, we let Mrs. Pillsbury do the hard work. M'kay?
A word about the size of the pie pan: I prefer a 10-inch pie dish. For pie contests, I usually use a 10-inch foil pan (Hefty brand makes one) because I don't want to risk my dish getting broken, and it seems easier to transport. Also, you don't have to go hunt down your pie dishes among hundreds after the contest is over. I also like the looks of a 10-inch pie, and I never, ever have spillovers into the oven. (Me = lazy = don't like cleaning the oven.)
OK pie peeps, let's bake!
Blue Ribbon Coffee-Toffee Pecan Pie
1st place, 2010 Malibu Pie Contest, seasonal category
3rd place, 2011 Malibu Pie Contest, seasonal category
2nd place, 2011 Pacific Palisades Pie Contest
3 ounces (6 tablespoons) unsalted butter
3/4 cup packed dark brown sugar
3/4 cup dark corn syrup
1/2 cup Lyle's Golden Syrup (a British syrup import, available at fancier grocery stores)
3 large eggs, at room temperature
2 tablespoons bourbon
1 tablespoon instant espresso powder
1 teaspoon pure vanilla extract
3/4 teaspoon salt
1/2 cup very finely chopped toasted pecans
2 cups toasted pecan halves + 8 for garnish
1 blind-baked 10-inch pie crust
1/2 cup English toffee bits + 1/4 cup mini chocolate chips (OR 1/2 cup crushed chocolate toffee candy pieces such as Heath or Skor)
Position a rack in the center of the oven, set a heavy-duty rimmed baking sheet on the rack, and heat the oven to 375°F.
In a medium saucepan over medium heat, melt the butter and cook, swirling the pan occasionally, until the butter is brown, 3 to 5 minutes. Immediately whisk in the brown sugar, corn syrup, and Lyle's Golden Syrup until smooth. Remove the pan from the heat and let cool slightly. When cooler, whisk in the eggs one at a time (if you whisk in the eggs when the mixture is too hot, you will risk scrambling them!). Whisk in the bourbon, espresso powder, vanilla, and salt. Stir in the chopped pecans.
Sprinkle half of the pecan halves in the pie crust, followed by the toffee candy pieces and mini chocolate chips, and then the remaining pecan halves. Pour the syrup mixture over all. Carefully float 8 pecans halves around the outer edge, spacing evenly; this is for pretty, and for a cutting guide later. When it comes time to cut your pie, you will cut between the pecan halves, leaving the half pecan neatly in the center of each piece on the outside edge.
Put the pie on the heated baking sheet and reduce the oven temperature to 350°F. Bake 25 minutes, then rotate the pan, and bake another 25 minutes, until done. You will know  the pie is done because when the pan is nudged, the center of the pie will no longer wobble, but the whole pie will jiggle just slightly, and the filling will bubble at the edges.
Transfer to a rack and cool completely before serving. The pie can be stored at room temperature for up to 2 days.
Source: Thanks to Nicole Rees, whose recipe in Fine Cooking magazine (Sept. 2009) I slightly adapted. 
List of winners
Congratulations to all the winners of Malibu's 2010 annual pie contest!
SEASONAL
1. Dorothy Reinhold: Coffee-Toffee Pecan Pie
(Tie for 2nd Place)
2. Eric Colicchio: Island Pumpkin Pie
2. Laurie Principe: Banana Pumpkin
3. Claire Mandeville: Home Grown Pumpkin Pie
CHOCOLATE
1. Chris Chambers Goodman: Chris' Chocolate Pecan Pie
2. Dorothy Reinhold: Rum Walnut Chocolate Chip
3. Dorothy Reinhold: Chocolate Chunk Pecan Pie
APPLE
1. Veronique de Turenne: Heirloom Apple Pie
2. 4th Grade Juan Cabrillo: Apple Pie
(Tie for 3rd Place)
3. Nancy Green: Cranberry Apple
3. Claire Mandeville
FRUIT
1. Lynda Pingatore: Summer Blueberry Pie
2. Alexandra Spezzoti: Crostata Di Lamponi
3. Kara Seward: Hennessey Blueberry Pie
MERINGUE/CREAM
1. Christina Hoag: Miami Key Lime Pie
2. Susan Kelly: English Trifle Pie
3. Maria Layon: Bodacious Banana Cream
CHEESECAKE
1. Wendy Davis: Pumpkin Cheesecake
2. Lynda Pingatore: Chocolate Swirl Cheesecake
3. Dominica Schiro: Italian Cheesecake
SUGAR FREE
1. Ava Ellis: Tropical Mango Coconut Pie
2. Susan Johnson-Fox: Strawberry Pie
AGE 9 AND UNDER
1. Hannah Hannley: Fruity Pebble Pie
2. Joshua and Zoe Doyle: Chocolate Rock Pie
3. Joshua and Zoe Doyle: Dirt Worm Pie
AGE 10 TO 14
1. Christina Leonardo: Midnight Pudding Fudge Pie
2. Sonny Thatcher: Mississippi Mud Pie
3. Abby Blackwood: Radical Raspberry Lemon Pie
PROFESSIONAL
1. Savory Restaurant: Rustic Apple Pie
2. Savory Restaurant: Mango Passion Fruit Cheesecake
3. Kevin Taylor: Divine Chocolate Mousse