Recipe: Kale, Cranberry, Chickpea, Edamame Salad (aka Better than Trader Joe's Kale Salad)
Summary: Refreshing raw kale salad sweetened with cranberries, enlivened with basil and mint, and nutritionally amped up with edamame and chickpeas, for a super side or entree salad. This version is even better than the Trader Joe's Kale and Edamame Bistro Salad!
Ingredients
Dressing
3 tablespoons Meyer lemon juice
4 tablespoons extra-virgin olive oil
1 garlic clove, finely minced or crushed
3/4 teaspoon dried Italian herb blend
1/4 teaspoon kosher salt
Salad
4 cups finely chopped Tuscan kale, ribs removed (this is about 4 ounces of kale)
1 (15-ounce) can chickpeas, rinsed and drained
2/3 cup dried cranberries (such as Craisins) soaked in boiling water to hydrate
1 cup edamame beans, cooked and cooled
Mint
Basil
A few carrot shreds (if you have them, for color)
Garnish: Cherry Tomatoes
Instructions
Add all dressing ingredients to a large salad bowl and whisk until combined.
Into the bowl throw the kale (which you have cut into a chiffonade size), chickpeas, cranberries and edamame. Mince a handful of mint and a handful of basil leaves and toss them in, along with some carrot shreds, if available.
Toss salad well to combine, and garnish with cherry tomatoes.
Serves 6 as a side salad, or 2-3 as a main dish for kooky kale-lovers.
Quick notes
Nuts: The TJ's salad has slivered almonds in it, as well. I didn't put any in because this salad holds up well in the refrigerator as leftovers (dressed), and I didn't want the nuts to become soggy. If you like them, feel free to sprinkle it with slivered almonds at serving time. If you don't like them, don't. See? These decisions are simple!
Preparation time: 15 minutes (chopping)
Cooking time: 5 minutes (to hydrate the cranberries)
Diet type: Vegetarian
Number of servings (yield): 6 as a side salad, 2-3 as a main dish salad
Culinary tradition: USA (General)
My rating 5 stars: ★★★★★
Here's what it looks like when a reader made it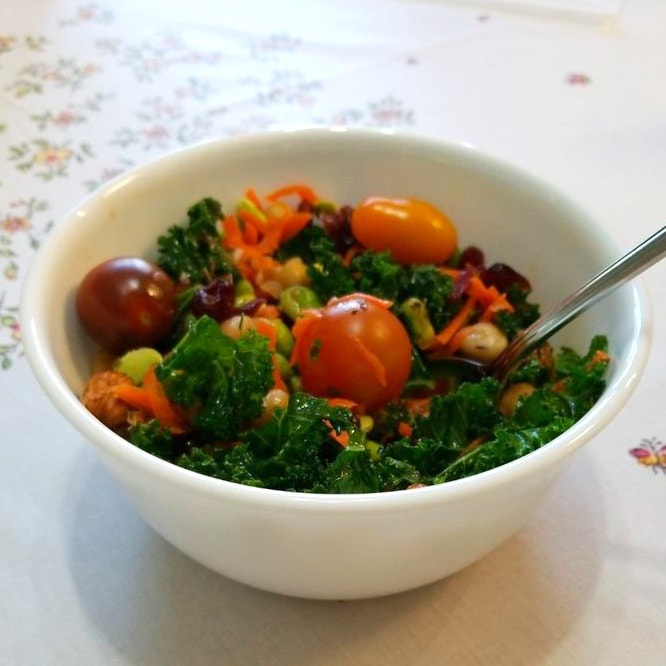 Katherine Wang made this, and said her family really liked it. "Used hazelnut instead of almonds due to food allergies. Easy to make. Will make again!"