Print This Post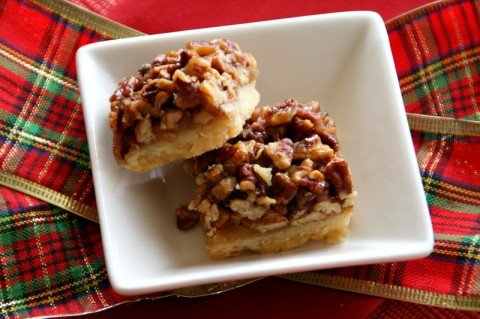 I've made many a pecan bar in my baking life. My recipe files are littered with tattered copies that I have clipped from newspapers, surreptitiously torn from magazines in the dentist's office, and scribbled on a pad in the car while a radio host yapped about the ingredients in her favorite version.
This is by far my favorite rendition (no corn syrup), from a 2004 edition of Southern Living magazine. Those Southern gals, they know their pecan pie!
I really like to bring bars these days instead of a pie, because they are so much easier to cut and serve. And really, people just want a couple of bites of any one flavor, before they move onto the next one. Don't you agree?
Our #SundaySupper cooks are having a holiday cookie exchange this week, and I'm bringing these to the virtual party. They're so rich you can cut them very small, so one pan makes a bundle. Check out all of their cookie offerings right below the Pecan Pie Bar recipe.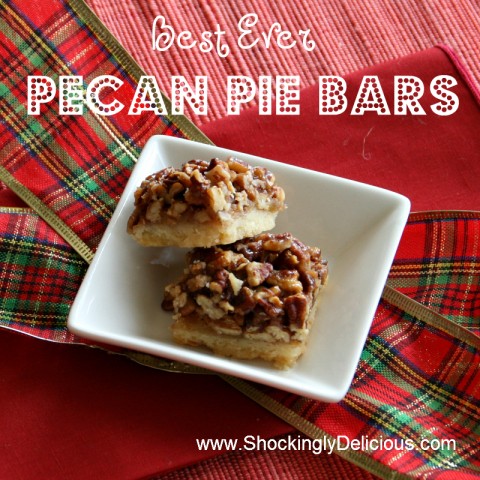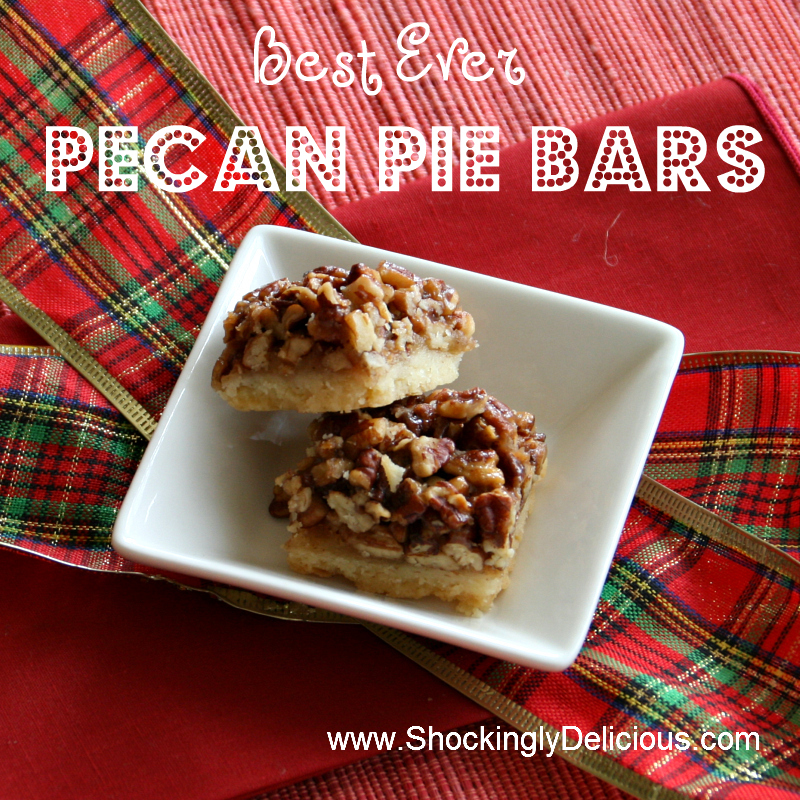 Recipe: Best Ever Pecan Pie Bars
Summary: Sweet but not cloying, rich and perfect when cut into small squares, these are the best Pecan Pie Bars. You won't miss the wedge of pie!
Ingredients
Crust
2 cups all-purpose flour
2/3 cup powdered sugar
3/4 cup butter, slightly chilled

(I used unsalted butter; add 1/4 tsp. salt if using unsalted butter)
Filling
1/2 cup firmly packed brown sugar
1/2 cup honey
2/3 cup butter

(I used unsalted butter; add 1/8 tsp. salt if using unsalted butter)

3 tablespoons whipping cream
3 1/2 cups coarsely chopped toasted pecans
Instructions
Heat oven to 350F degrees. Line a 13- by 9-inch baking dish with foil, lightly mist with nonstick spray, and set pan aside.
Make crust: In bowl of electric mixer, mix flour and powdered sugar. Cut in butter using the paddle (or use a pastry blender or fork if you don't have an electric mixer) just until mixture resembles coarse meal. Pat mixture on bottom and slightly up the sides of the prepared pan. Bake for 20 minutes or until edges are lightly browned. Remove from oven (leave oven on) and cool.
Make filling: Bring brown sugar, honey, butter and whipping cream to a boil in a saucepan over medium-high heat. Remove from heat.
Sprinkle pecans over prepared crust, evenly pour hot filling over pecans, and bake for 25-30 minutes or until golden and bubbly. Remove from oven, cool completely, and then lift foil to remove cookies from pan onto a cutting board. Peel off and discard foil, and cut cookies into 60 pieces.
Source
Slightly adapted from Pecan Squares in Nov. 2004 Southern Living magazine, by Judy Russell of Birmingham, Alabama.
#SundaySupper
Here's a list of all the recipes I have brought to our #SundaySupper virtual meals so far. Browse through them…lots of good ideas in here!
Preparation time: 10 minutes
Cooking time: 50 minutes
Diet type: Vegetarian
Number of servings (yield): 60 pieces
Culinary tradition: USA (Southern)
My rating 5 stars:  ★★★★★ 
Don't stop with Pecan Pie Bars – go check out the rest of the #SundaySupper crew and their delicious cookie recipes, below! I want a cookie platter with every one of these on it!
The Sunday Supper Favorite Cookie Exchange Cookies:
Check out Cookielicious by Food Editor Janet K. Keeler from The Tampa Bay Times now while there is a special… Buy one Cookielicious Cookbook and get one for a friend!
Do you have a favorite cookie to take to a Cookie Exchange?  Please join on us on Twitter throughout the day during #SundaySupper today (Dec. 9).  We'll cyber-meet at 4 p.m. PST for our weekly #SundaySupper live chat, when Janet Keeler, Food Editor at the Tampa Bay Times, will be chatting with us. We will be giving away 5 copies of her cookbook "Cookielicious,"  during our chat ( U.S. residents only; winners will be chosen from participants during the chat.) All you have to do is follow the #SundaySupper hashtag or you can follow us through TweetChat.