If I don't eat enough protein for breakfast, there's trouble later. Long about 10:30 a.m., I'm up from my work, hunger pangs clanging, searching for something to eat. And all too often that "something" might not be the best choice.
Oh look, there are those cookies calling my name from the cookie jar. Or that leftover piece of pizza from Friday night. Or something salty from the cabinet, like pretzels. If I'm out, 10:30 might find me rummaging in my wallet for quarters for the vending machine, and you know that isn't going to end well. Breakfast of a piece of toast and cup of juice isn't going to cut it, folks, for me and probably not for you, either.
And I don't even want to hear about it if you're skipping breakfast, because that's just a terrible idea.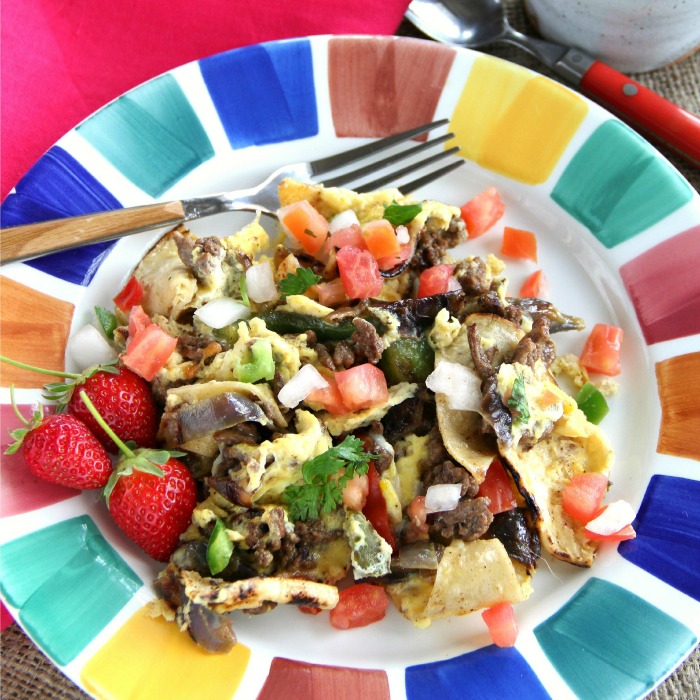 This is a better idea.
So my challenge is to make sure I get enough protein starting first thing in the day, and to eat some protein with every meal. So I went searching for help, and found it on the Beef website. Yeah, we're used to hearing "Beef, it's what's for dinner," but I want to say, "Beef, it's also for breakfast." On the beef site I found several useful resources:
Today I've joined with 19 other Sunday Supper bloggers to help you get your protein deliciously. We're offering recipes and ideas for breakfast, lunch and dinner, to make every meal count.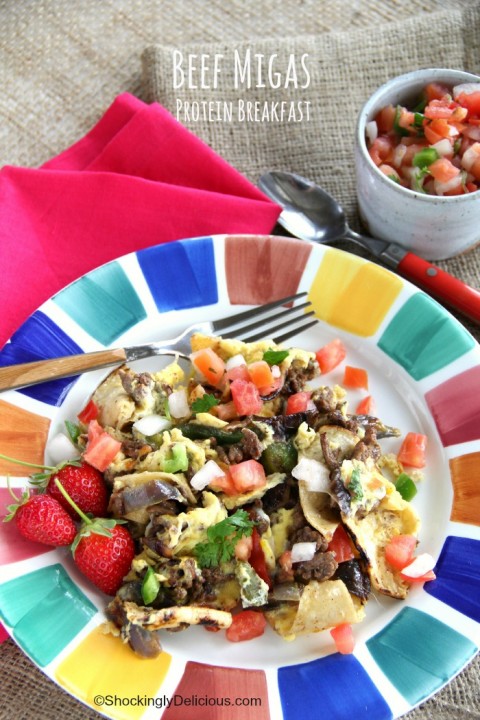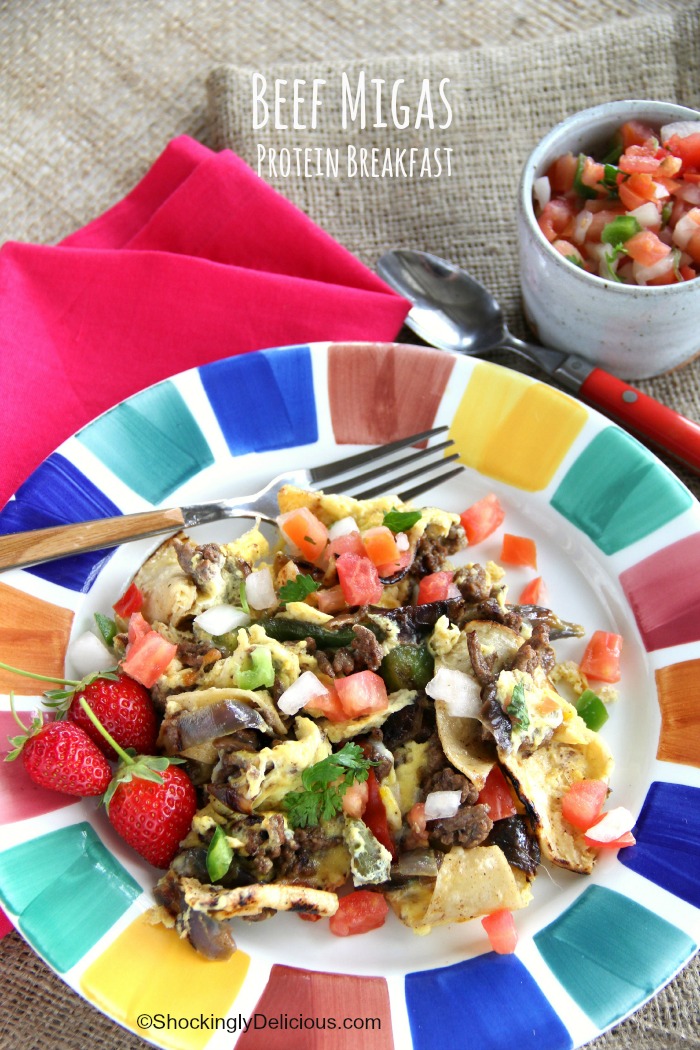 I'm offering Beef Migas, a shaggy, raggy, rustic breakfast that normally uses up leftover tortillas and pairs it with scrambled eggs. I'm making it more beefy, of course, and we'll cook it with onions and peppers for flavor, and cheese and pico de gallo for a garnish. It's basically a delicious excuse to use stuff up. (Hmmm, isn't that what most good recipes are?)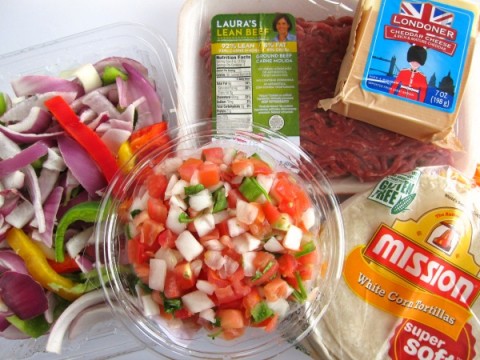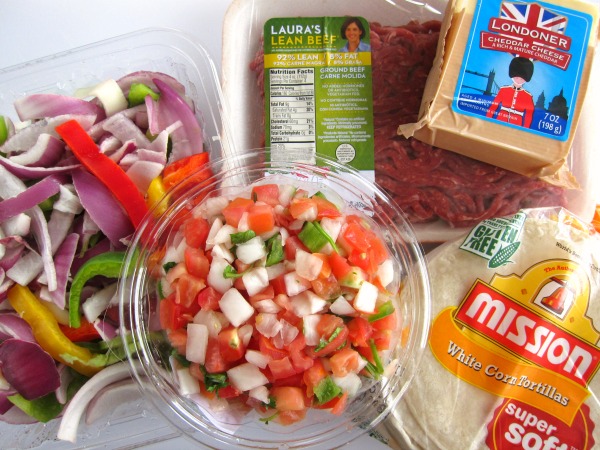 I took a bit of a shortcut today by using prepared fajita mix and prepared pico de gallo. And I got them both on markdown, so score!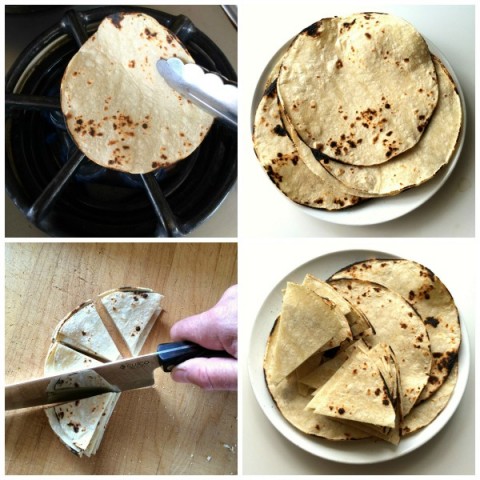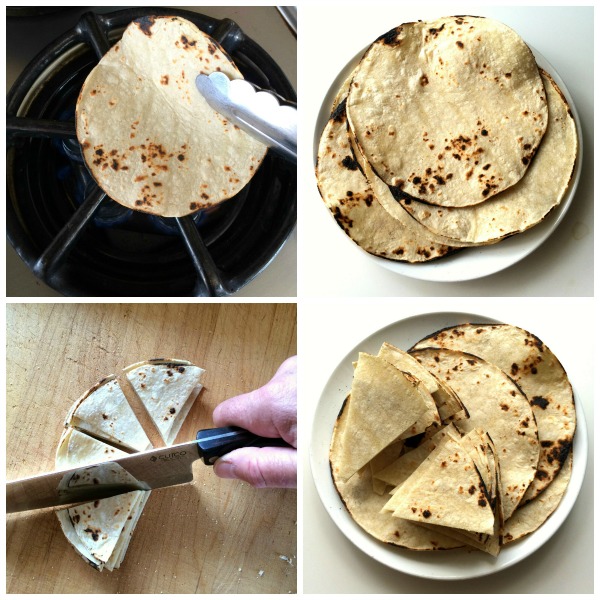 Let's get started by charring the tortillas first. You can skip this step, but it adds so much interest and flavor, don't skip it unless you are pressed for time.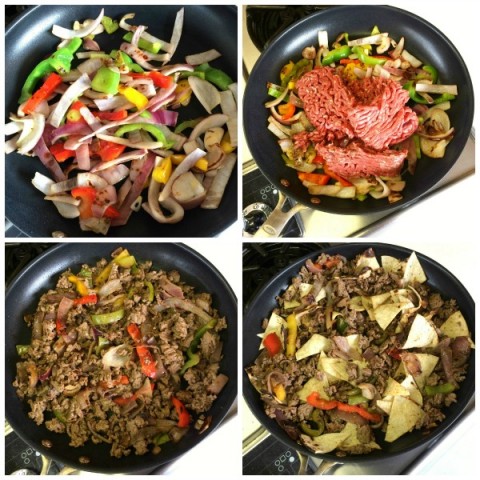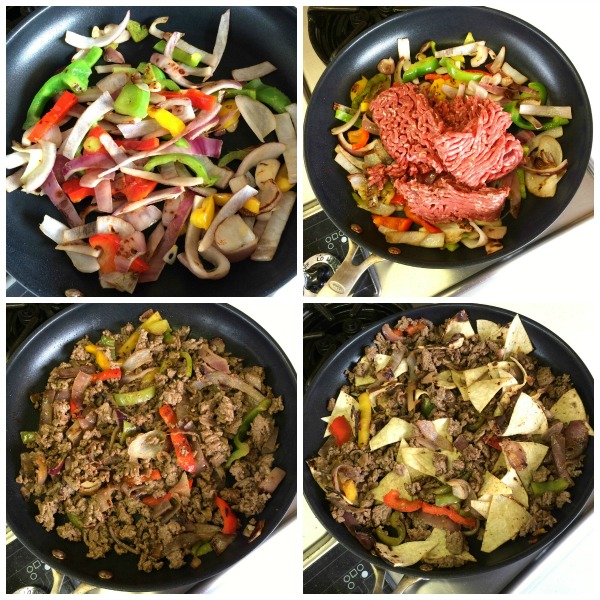 All good beef dishes start with onions and peppers, don't they? That was a rhetorical question.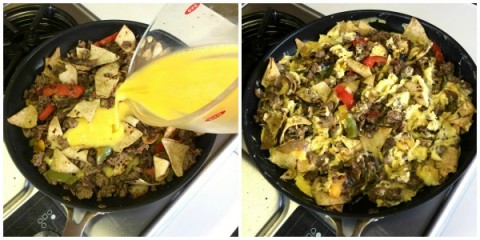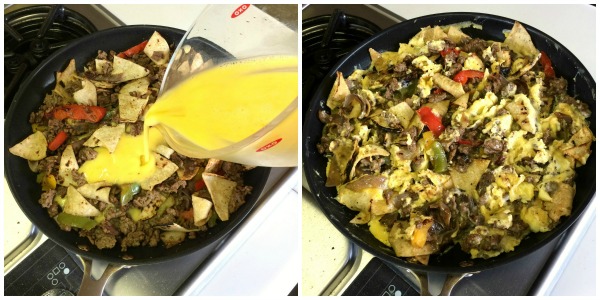 Rise and shine, and dig in!
For more protein, add ground beef to Beef Migas, a shaggy, raggy, rustic breakfast that normally uses up leftover tortillas and pairs it with scrambled eggs. Hot sauce and pico de gallo spice it up!
Ingredients
2 teaspoons olive oil
3 cups fajitas mix (or a mix of sliced onions and colored bell peppers)
1 pound ground beef (I used 92% lean beef)
10 eggs
3 tablespoons water
Kosher salt
Ground pepper
Grated cheddar cheese (optional)
1- 1 1/2 cups Pico de Gallo (chopped tomatoes, onions, jalapeno and cilantro)
Hot sauce (offer a selection)
Directions
Using a metal tongs, toast tortillas one at a time over an open flame, letting the edges get just a bit charred. Set each one aside before you begin the next one. When done, stack them and cut into wedges. Set wedges aside.
Heat oil in a large non-stick skillet on medium heat. Add fajitas mix and sauté, stirring often, for about 5-7 minutes. Add ground beef and sauté, stirring often to break up clumps, for 5-10 minutes, until beef is browned and cooked through.
Add tortilla wedges to the skillet, separating them with your fingers so they aren't clumped up. Cook and stir for 2-3 minutes. If there is any liquid from the beef, the tortillas should help to absorb it.
Crack eggs into a large measuring cup, add water and whisk. Lower heat on the skillet and pour eggs evenly into the skillet. Sprinkle with a big pinch of kosher salt and a few turns of the pepper grinder. Allow to cook for 5-7 minutes, stirring occasionally as you would for scrambled eggs. When eggs are cooked, the dish is done.
Remove from heat and portion onto plates. Top with a pinch of grated cheese if you wish (optional), and a spoonful of pico de gallo. Offer hot sauce options at the table so each person can add their own.
Note this dish is deliberately under-salted and under seasoned, because the pico de gallo and hot sauce are going to take care of this at the end.
Serves 4-6.
Notes
Recipe source: Recipe by Dorothy Reinhold | Shockingly Delicious
https://www.shockinglydelicious.com/beef-migas/
[4]
Copyright Dorothy Reinhold | ShockinglyDelicious.com. All rights reserved.
This week our Sunday Supper cooks are celebrating protein, and showing you how to make every meal count, sponsored by The Beef Checkoff. For more breakfast, lunch and dinner ideas, see our 20 delicious recipes below, and follow our Sunday Supper Protein-Packed Recipes Pinterest board [5]. Join me in following The Beef Checkoff on social media: Website [6] | Twitter [7] | Facebook [8] | Pinterest [9]. I don't know about you, but I enjoy being at the top of the food chain.  😉
Today's Sunday Supper Recipes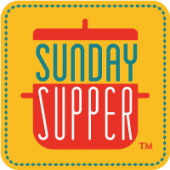 Check out our collection of 20 recipes we have lined up for you today from the Sunday Supper cooks. Try my Beef Migas for breakfast (or shhhh…I would also eat it for dinner!), or choose another recipe from the menu below to serve around your own family table. Now let's hit the kitchen. Sunday Supper will be here before you know it!
Start your day deliciously:
Power up at lunch:
Make a fantastically satisfying Sunday Supper:
Get your knife supply ready:
Join us around the family table for #SundaySupper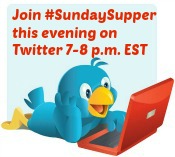 [30]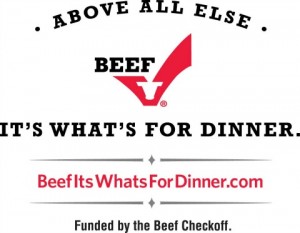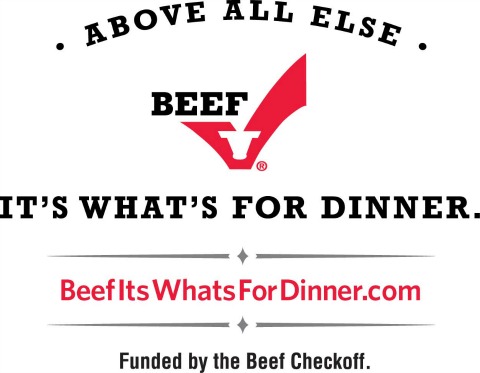 Disclosure: This post is sponsored by The Beef Checkoff in conjunction with a social media campaign through Sunday Supper LLC. All opinions are my own.