Recipe: Beans and Greens with Shallots, Black Garlic and Cranberries
Summary: A hearty, healthy side dish of Beans and Greens with Shallots, Black Garlic and Cranberries marries cannellini and kale to sweet black garlic and chewy cranberries, with a zingy lemon dressing.
Ingredients
[1]1 bunch Lacinato kale (also known as Black Tuscan, or dinosaur or cavolo nero kale)
3 tablespoons olive oil
1 large shallot, peeled and finely minced
3 cloves fresh garlic, finely minced
4 cloves black fermented garlic (optional), finely minced
½ cup sweetened dried cranberries (such as Craisins)
Pinch kosher salt
Freshly grated black pepper
1 (15.5-ounce) can Bush's Cannellini Beans, drained and rinsed
1 1/2 tablespoons freshly squeezed lemon juice
Garnish: Parmesan cheese (optional)
Instructions
Heat a pot of salted water until it boils. Wash kale leaves, remove and discard the central rib, and chop the kale. You should have about 5-6 cups, lightly packed. Add the kale to the boiling water and blanch it for 2-3 minutes. Strain the kale and rinse it under cold water to stop the cooking. It should be bright green. Squeeze it with your hands to remove excess water and set it aside.
In a large skillet, heat the olive oil over low-medium heat. Add the shallots and sauté for 2 minutes, until they begin to soften. Add the fresh and black garlic and sauté for a minute, stirring frequently.
Increase the heat to medium and add the cooled kale, cranberries, season with salt and pepper and sauté for 2-3 minutes, stirring frequently. Add the beans and lemon juice, and heat through for another minute or two, stirring gently so you don't mangle the beans. Taste and adjust seasonings to your liking, adding more salt, pepper or lemon juice if needed.
Transfer the mixture into a pretty serving dish if you're serving family-style, or portion onto individual dinner plates if that is your preference. Pass grated Parmesan at the table for anyone who wants a sprinkle on top.
Serves 4-6.
Quick notes
If you can't find Black Garlic at your grocery or specialty store, you can omit it. The dish won't be quite the same, but it will still be delicious! It is distributed by Frieda's Specialty Produce [2] (ask your produce manager for it), or you could order it online from the company at Blackgarlic.com [3].
Preparation time: 20 minute(s)
Cooking time: 15 minute(s)
Diet type: Vegetarian
Number of servings (yield): 4-6
Culinary tradition: USA (Nouveau)
My rating 5 stars:  ★★★★★ 1 review(s)
I wrote this post and created this recipe as part of a partnership between Kitchen PLAY and Bush's Beans. They have compensated me for my time and cooking expenses but my opinions are my own.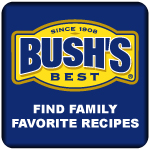 [4]