Recipe: Baked Goat Feta with Olive Oil and Herbs
Summary: Heated, with fresh herbs and delicious atop sliced baguette, raw goat milk feta is clean, gently briny and utterly delicious!
Ingredients
Instructions
Heat oven to 350F degrees. Place cheese in a baking dish, drizzle generously with olive oil, sprinkle generously with fresh herbs, and bake for about 10-15 minutes, until heated through.
To serve, remove dish from oven to a hot pad or trivet, along with a basket of baguette slices. Each person cuts a slice of oily, herby cheese and slaps it on their bread and munches!
Serves 4 for dinner, or more for appetizers.
Source
Jennifer Bice, Redwood Hill Farm [2]
Preparation time: 5 minutes
Cooking time: 15 minutes
Diet type: Vegetarian
Number of servings (yield): 4
Culinary tradition: USA (Nouveau)
My rating 5 stars:  ★★★★★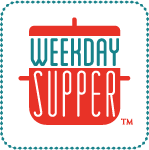 [3]Throughout the week, you can find the #SundaySupper team sharing #WeekdaySupper meals as well. Getting families back to the dinner table is our mission, and I hope we inspire you to try some of our delicious recipes. You can find them on our Pinterest Boards [4] as well. Please join us there and try something!
This week's easy Weekday Supper recipes are: