Print This Post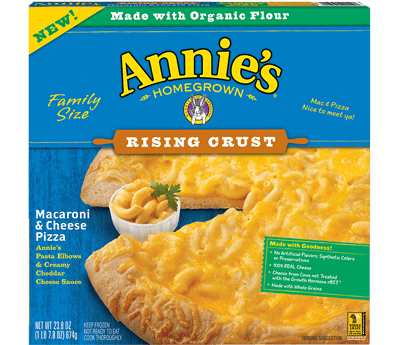 If you marry two beloved childhood favorites, you get a match made in heaven, right?
Pizza or mac 'n' cheese! What if it wasn't an either/or question? What if you could have them both, all in one? Just the thought of them cavorting in the same dish makes the kid in me swoon. What's not to love about that combo?
Annie's Rising Crust Pizza added a Mac & Cheese Pizza to their line of frozen pizzas, and it's flying off the shelves.
Why did it take so long for this idea to bubble up? Annie's wanted to see if the combo was worth waiting for, and they put kids' temptation to the test in this cute video. They tortured challenged a bunch of kids to sit in a room alone and wait 10 minutes without digging in to either the bowl of mac 'n' cheese or the plate of cheese pizza in front of them. You can imagine how hard that was; luckily, there was a camera to record their reactions. Watch it…

Of course, the delicious reward of Mac & Cheese Pizza at the end made all that waiting worthwhile!
I'm pretty sure my son couldn't pass the waiting test. I could imagine him looking around furtively, and then taking a little nosh, and then if nothing happened, maybe another nosh. The lack of cutlery wouldn't get in his way, either.  😉
You can find Annie's Pizzas at grocery stores. Super Targets sell the Mac & Cheese Pizza for about $7.99; the rest of the line ranges between $7.99-$10.99. I think I'll get some and bring it to the season-ender soccer party!
Giveaway! 6 people win! 
[UPDATE 12-21-13: Congratulations to David L. of Lincoln, NE, Itzia R. of Sacramento, CA, Casandra F. of Somonauk, IL, Marni W. of Manhattan Beach, CA.  and Helen R. of Furlong, PA on winning the pizza coupons! Congratulations to Carla S. of Budd Lake, NJ for winning the pizza party pack! Annie's will be mailing the winners their prizes. Stay tuned to Shockingly Delicious for more fun giveaways! 
—5 Shockingly Delicious readers will each get a $10 coupon for a free Annie's Rising Crust Pizza
—1 lucky winner will get a grand prize of an Annie's Pizza Party Pack ($50 value)
Annie's Bamboo Pizza Cutting Board
Annie's Pizza Cutter
Annie's Rising Crust Pizza T-Shirt
Coupons for FREE Annie's Rising Crust Pizza
To enter, simply do any or all of the following: 
Tell me in the comments below how long your child would wait if asked to hold out for 10 minutes to taste new Mac & Cheese Pizza. Tell me your story!
Like Shockingly Delicious on Facebook and leave a comment telling me you did.
Follow Shockingly Delicious on Twitter and leave a comment telling me you did and what your Twitter handle is.
Put me (Dorothy Reinhold) in your Google+ circles and leave a comment telling me you did and what your Google+ name is. You can find me on Google+ here.
Follow Shockingly Delicious on Instagram and leave a comment telling me you did.
Follow my boards on Pinterest and leave a comment telling me you did.
To participate in the giveaway you may do any of these, and each is considered a separate entry, so leave a separate comment for each one you do.
This giveaway is for 5 winners of the coupons, and 1 grand prize winner.
Open to those with mailing addresses in the USA only.
Deadline: Submissions will close at noon Pacific Time on Thursday, Dec. 19, 2013.
Winners will be notified via email within 24 hours of the close of the giveaway, and given 48 hours to respond. If I do not receive a response in 48 hours, I'll need to draw new winners.
There is more legal fine print here.
Ready, set, GO!