Recipe: 5-Minute Melon Rosemary Sorbet
Summary: Cut the melon and freeze it the day before, and then make this delicious, delicately flavored Melon Rosemary Sorbet after you're done with dinner the next day. It will take only 5 minutes and a food processor.
Ingredients
Half a Gold Canary Melon, seeded, skin peeled off and cut into chunks (about 3-4 cups chunks)
3 tablespoons agave sweetener
3/4 teaspoon finely minced fresh rosemary
Garnish: a fresh rosemary sprig (optional but cute)
Instructions
Place melon chunks on a plastic plate or tray in a single layer and freeze overnight.
When you are ready to eat the sorbet the next day, place the frozen melon chunks in the food processor, add the agave and rosemary, and whirl until it comes together and begins to look like thick ice cream. You may need to add a tablespoon or more of water to help the process along. But don't whirl so long that you make slush, though. Stop when it is just spoonable.
Scoop into bowls and stick in a sprig of fresh rosemary.
Serves 4-6.
Quick notes
Vegan, gluten-free, non-dairy, low-fat, fruit-filled…this baby has a lot going for it!
Preparation time: 5 minutes
Diet tags: Low fat, Gluten free, Raw, Vegan
Number of servings (yield): 4-6
Culinary tradition: USA (Nouveau)
Disclosure: Melissa's Produce [1] provided samples of the melon mentioned in this article. There was no expectation or requirement of endorsement. My opinions, as always, are my own.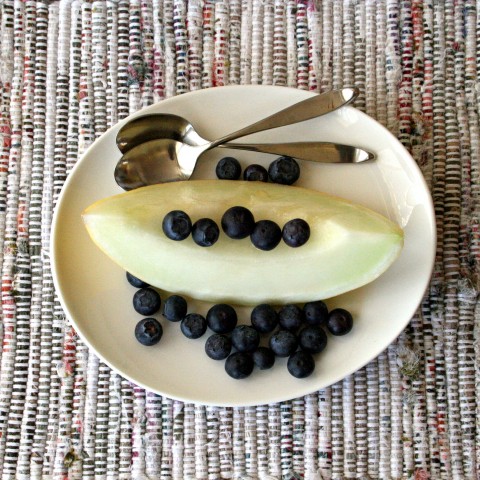 [2]